Little components dosage, n = dose achievement in kg/h, x = amount of the components
We produce these devices in different configurations and adapted to the task position of the customer. If you seek a problem solution, you ask us!
More components working Gravimetrisch – dosing system for bulk materials. Especially suited for the automation of self-repeating dosing procedures in the little series (z. B. mixer filling with color con).
Simple cleaning through ausschwenkbare container. Fully automatic business on littlest room. Very flexible through the mount on a mobile height adjustable unit.
With a linear drive, the Funnel weighs is gone under the single agencies dose. The control activated after the weight signal on each other following the single components. After termination of the dosing process, the scales automatically are emptied. The that increase in prices of the device can take place via an external signal, therefore a fully automatic business is possible.
modular construction 

SPS – driven 

accuracy < + /- 1g 

mobil

e
Use: granulates and powder achievement: 200 kg/h
50 appointments/h, Standards 4 materials, more on inquiry.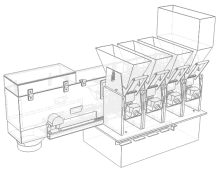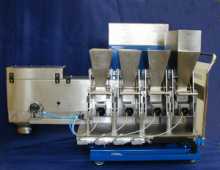 Dose adjoin for mixer charging