Appointments dosage gravimetrisch, n = amount of the components, x = achievement in kg/h
These devices are are in different configurations available, through the modular construction always conformities to the requests of the customer possible. If you seek a problem solution, you ask us!
The appointments best dose pour system for Granulate and heavily fluent more well on the market!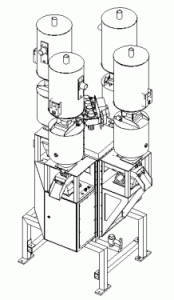 The system of GF is based on a modular module. Therefore all requests can pour fulfilled become in the dosage of well, for 1-n materials.
Use of digital would weigh cells with a solution of 1 million parts.
Proportions all bulk materials: 
Through flexible selection the dose agency: snails, dose groove, slide.
Through complete opening the dose clear and withdrawal of the scales. Little components can be emptied to the rear.
Flexible control concept: 
The dosage can be integrated into an existing concern draft by the use of SPS-controls.
They can extend the dosage also:
Suck production SA-n
ball mixer KM-n
drum mixer TM-n