Ball mixer, n = volume of the mixer
We produce these devices in different configurations and adapted to the task position of the customer. If you seek a problem solution, you ask us!
A large advantage of the Mischers exists therein that through the spherical construction no dead corner can form itself. The mixture taken place by means of mix abandon will mix obtained one specially on that voted tool from above after below, therefore an optimal result.
That mix is based principle upon a wave, that goes in the middle horizontally through the Mischer. The material is mixed in the flow on the processing machine. That mix so is selected speed, mix obtained becomes that in shortest time an optimal result.
That mix is tool within less seconds interchangeable. That mix is polished container in the interior and to clean by the ball form easily.
The system works very flexible. Different can mix delivered become tools or is produced it a special tool for your individual use.
Suitable for the mixing of Granulat, PE, PP, also Granulate with powder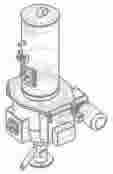 mixes fully automatic
mixes in the continuous process
robust construction
easily to clean
KM-n for direct construction on Extruder with constructed Sauger SA-n 70l volume 800kg/h Granulat.
Supplemented can become with:
suckconveyor SA-n
appointments dosage CD-n-x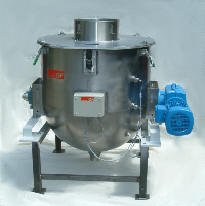 KM-n for d=800mm
250l volume