Pattern recognition for mistake recognition at running foils (cooperation GF/Inherent/women yards-institute)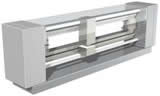 This system was developed in collaboration of the firm Inherent with the women yards-institute. It serves to the real time mistake recognition at running production machines. GF industry technology is your partner if it goes therefore to use this device in the practice. We deliver the mechanics necessary for the practical business and illumination.
The system enables the real timing of running foils or disks in a solution of 0.1 mm and a speed of until to 150m/min
The picture recognition system works with one or several lines cameras. The cameras are coupled through a hardware control, and a CCD-line is generate. This line can be distributed with a special hardware among as desired many PC´s. Therefore the possibility offers itself to adapt the rake achievement of the amount of data to be grasped.
Affecting measuring procedure:
This fair procedure developed by GF enables the exact measuring of foil and disks to a favorable price. Over the difference of two precision fair wheels, that are led parallel over and under the foil train, the thick of the foil becomes or disks by means of an inductive sensor grasped.
The software consists of two parts. The operating system treatise for cried-NT enables the distribution of computation time on several systems. For the mistake recognition at the product, special algorithms were developed to locate that are in the situation, also in the most complicated pattern mistake.
Plastic foil and disks
rubbers
materials
paper
of wood disk